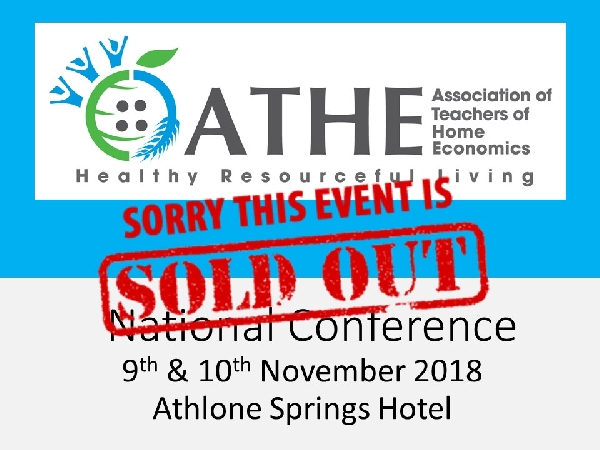 Thank you to all those who have registered for the ATHE National Conference taking place this weekend.
We are now officially at capacity and can take no more delegates at the conference.

With this in mind if you have not registered or have not been in contact with me directly please DO NOT TURN UP to the conference.
ATHE National Conference will be held at the Athlone Springs Hotel, Athlone on the 9th and 10th of November 2018.
ATHE Conference 2018
9th & 10th November 2018
Conference Schedule
Friday Night 9th November 2018
7:00 – 7:30 Registration
7:30 – 9:00 Upcycling Processes for Textile Products and Garments. St Angela's College TFD Department.
Saturday 10th November 2018
8:00 – 8:45 Registration; register and get your delegate pack.
Viewing of Stands
8:45 - 9.00 Introduction by ATHE President, Maria Hickey.
9.00 - 9.30 Health & wellbeing: Louise Ronan; School Canteens.
9.30 – 10.00 Presentation by Junior Cycle for Teachers.
10.00 -10.15 Safefood – Dr Charmaine McGowan, Scientific Officer, Safefood.
10:15 – 10.30 SEAI; Energy Efficiency
10.30 – 11.00 Break & Viewing of Stands
11.00 – 11.45 Business Meeting
11.45- 12.00 Awards Giving Ceremony; Awards for top students from LC, JC and LCA.
12.00 – 1.00 ATHE Ambassador Neven Maguire; Cookery Demonstration.
1.00 – 2.00 Lunch
2.00 - 2.30 Presentation by NCCA; Junior Cycle Home Economics Assessment Guidelines.
2.30 - 3.30 Ruth Charles; Presentation on LC Assignments 1 & 2.
Note:
The ATHE Conference is open to all teachers. Therefore there are a number of payment options:

Member Conference Fee: €35
Membership and Conference Fee: €65
Non-member Conference Fee: €45

As only ATHE members may attend the AGM business meeting any non-ATHE members will be asked to vacate the room during that time.
For ATHE Members you have the option to pay for your membership and conference together or separately.
Please note to guarantee a delegate pack you must be signed up by Monday 5th November at 5 pm.