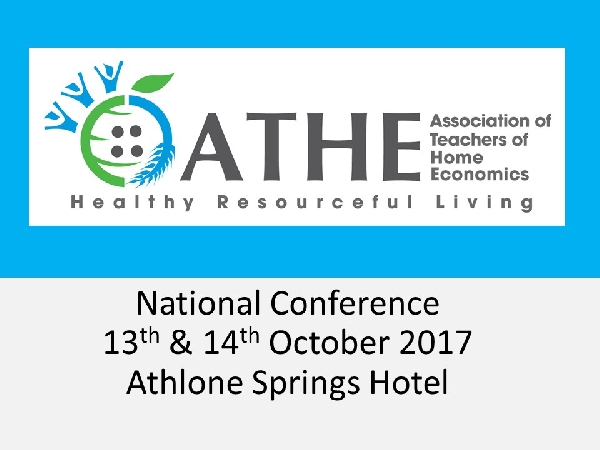 ATHE National Conference will be held at the Athlone Springs Hotel, Athlone on the 13th and 14th of October 2017.
Friday Night 13th October 2017
6:45 – 7:00 Registration
7:00 – 7:30 Junk Kouture - Overview of the competition and how to enter.
7:30 – 9:30 The Zip Yard - Upcycling your wardrobe
Saturday 14th October 2017
8:00 – 8:45 Registration; register and get your delegate pack.
Viewing of Stands
9 - 9.15 Introduction by ATHE President, Maria Hickey.
9.15 - 9.45 Safefood – Dr Charmaine McGowan, Scientific Officer, Safefood.
9.45-10.15 Digital Literacy – Siobhan O'Sullivan, PDST.
10:15 – 11.00am Break & Viewing of Stands
11.00 – 12.00 Presentation by NCCA; Home Economics in the context if Junior Cycle reform. Amanda McCloat, Head of Home Economics, St Angela's College, Sligo.
12.00 - 12.15 Presentation by Junior Cycle for Teachers. Roseann Uí Fhlatharta; JCT Team leader for Home Economics
12.15 - 12.30 Awards Giving Ceremony; Awards for top students from LC, JC and LCA and SewCool Competition winners
12.30 - 1.15 Business Meeting
1.15 – 2.30 Lunch
Lunch served at 1.30
2.30 - 3.30 Paula Mee, Consultant Dietitian; Presentation on Leaving Cert Tasks 1 & 2, 2019
http://paulamee.com/about-paula-mee-consultant-dietitian-dublin-ireland/about-paula/
3.30 - 4.00 Finance Solutions; Mortgages – an update on current trends and policies
Note:
The ATHE Conference is open to all teachers. If you would like to attend please sign up to our website and pay for the conference using the conference only fee.
As only ATHE members may attend the AGM business meeting any non-ATHE members will be asked to vacate the room during that time.
For ATHE Members you have the option to pay for your membership and conference together or separately.